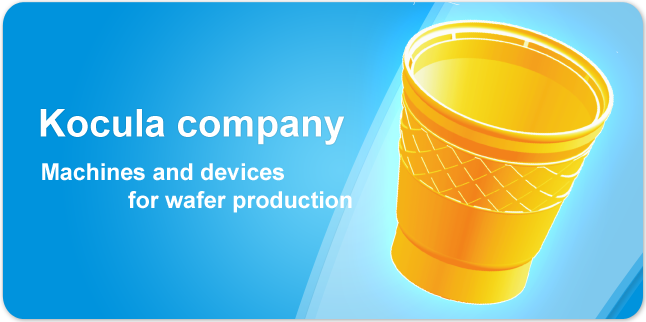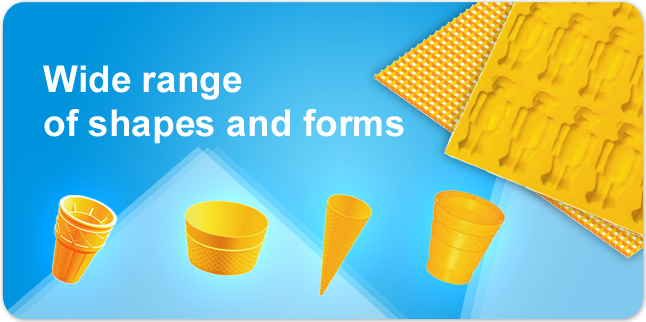 Kocula company Has to offer a complete and proven production line for bars Piramidki.


"PIRAMIDKI" CHOCOLATE BAR - PRODUCT PRESENTATION

COMMERCIAL HISTORY OF "PIRAMIDKI" CHOCOLATE BAR

PIRAMIDKI PRODUCTION STAGES

GENERAL DESCRIPTION OF MACHINES INCLUDED IN PRODUCTION LINE:

Dough mixer

Machine for solving and storing icing

Machine for production of triangular wafers

Ball mill set

Filling machine

Coating machine and cooling tunnel

Packing machine and dating machine

EVALUATION OF PRODUCTION LINE AND PIRAMIDKI BRAND

CONTACT
1. "PIRAMIDKI" CHOCOLATE BAR - PRODUCT PRESENTATION
Piramidki is a crunchy wafer filled with delicate milk-nut mass, coated with high quality milk-cocoa icing.
The shape and flavor of Piramidki is a completely original idea of WALCZAK – Wytwórnia Cukiernicza, which makes it a unique product in the market. One packing contains two bars.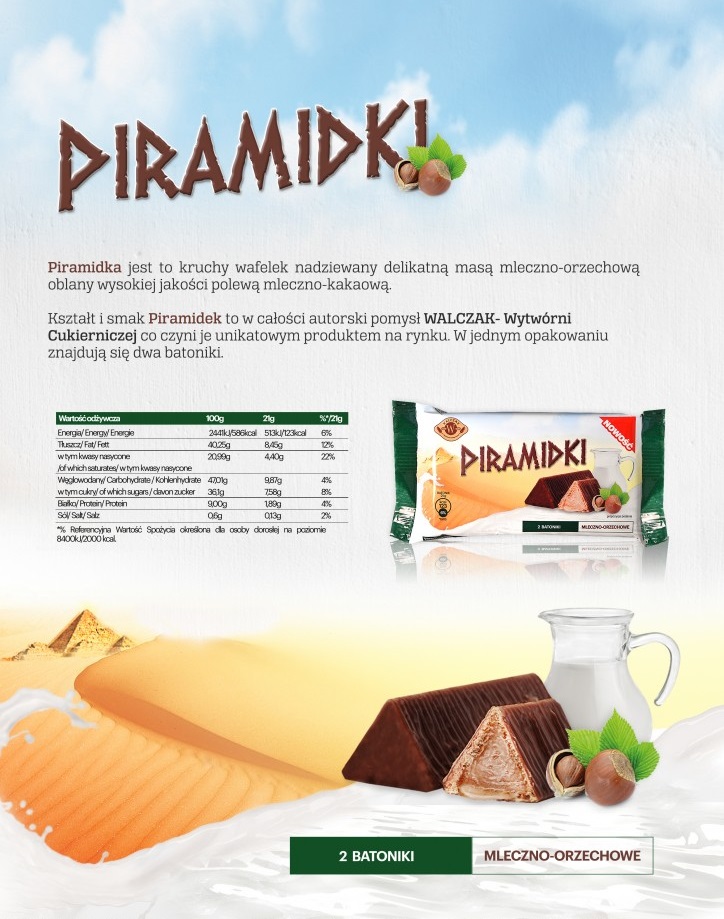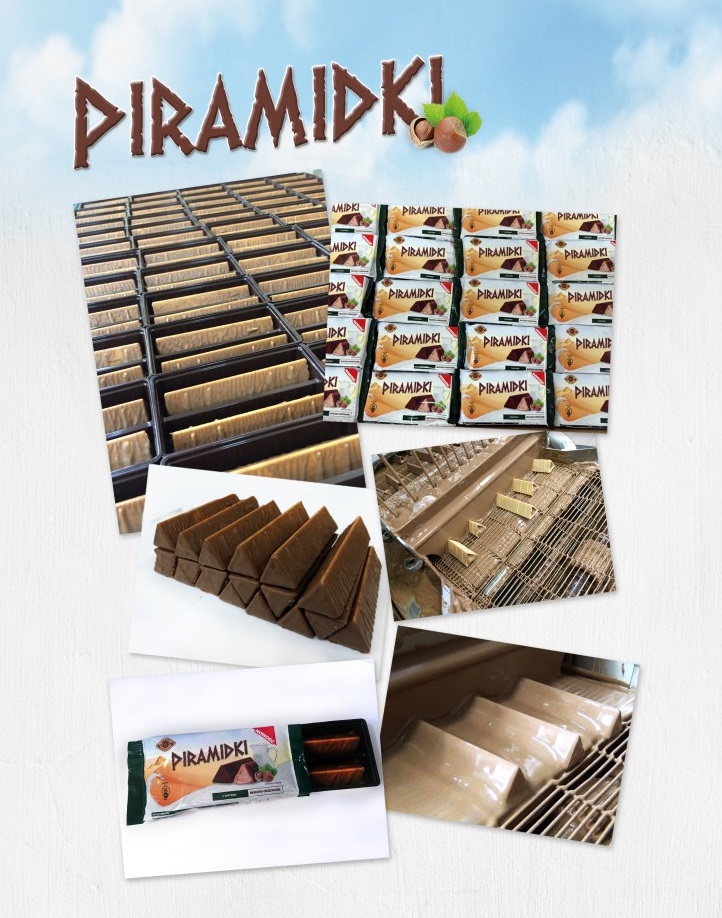 "Piramidki" are available in two flavours: in white and mixed chocolate.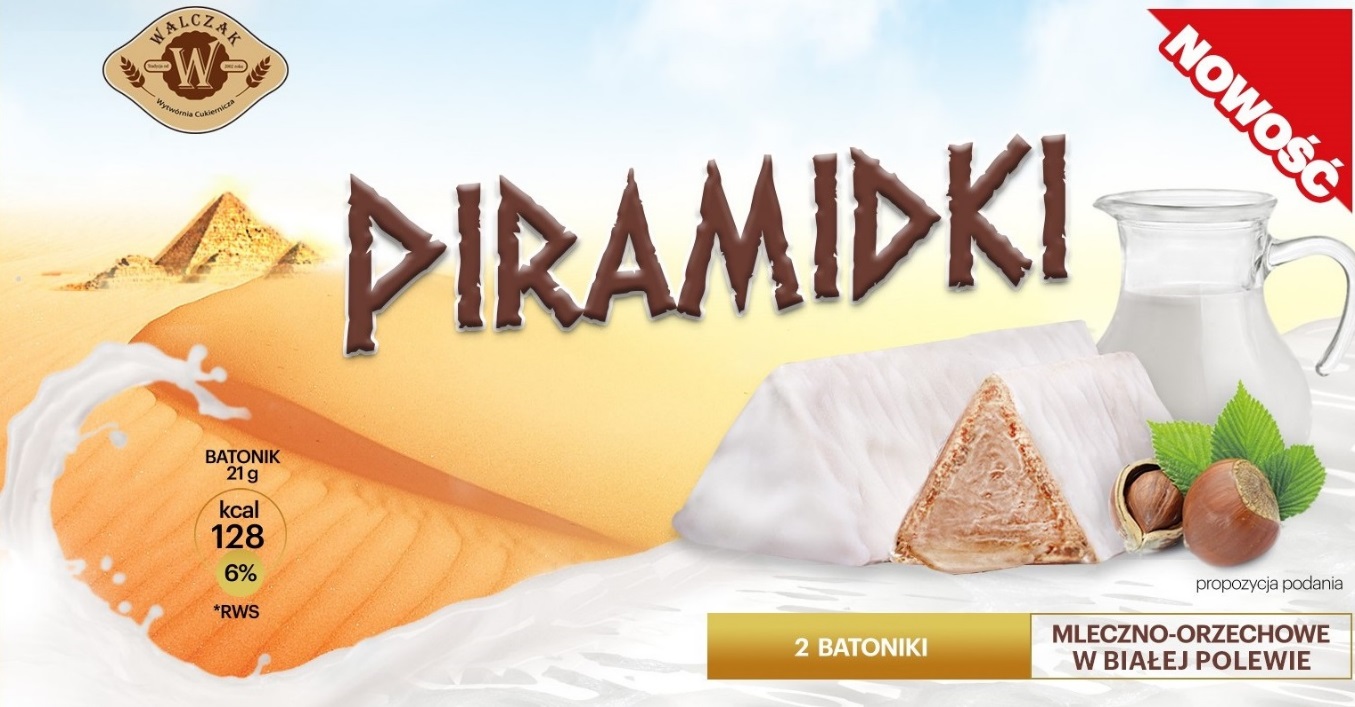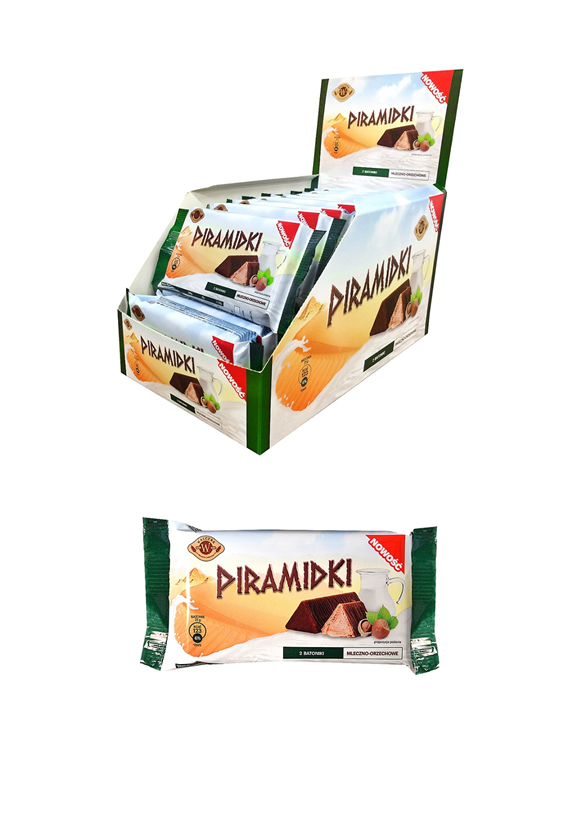 2. COMMERCIAL HISTORY OF "PIRAMIDKI" CHOCOLATE BAR
Piramidki product was introduced to sales in October 2015. Chocolate bards were sold to small wholesale companies from sweet industry in the territory of the entire country. Next, the product was accepted by STANRO wholesale company which distributed it to SPOŁEM chain. The subsequent step was introduction to NETTO chain with which WALCZAK - Wytwórnia Cukiernicza signed a contract for indeterminate period of time.
One of advertisements promoting the product in social media is presented below (Netto logo was used upon consent of the advertising department of the chain).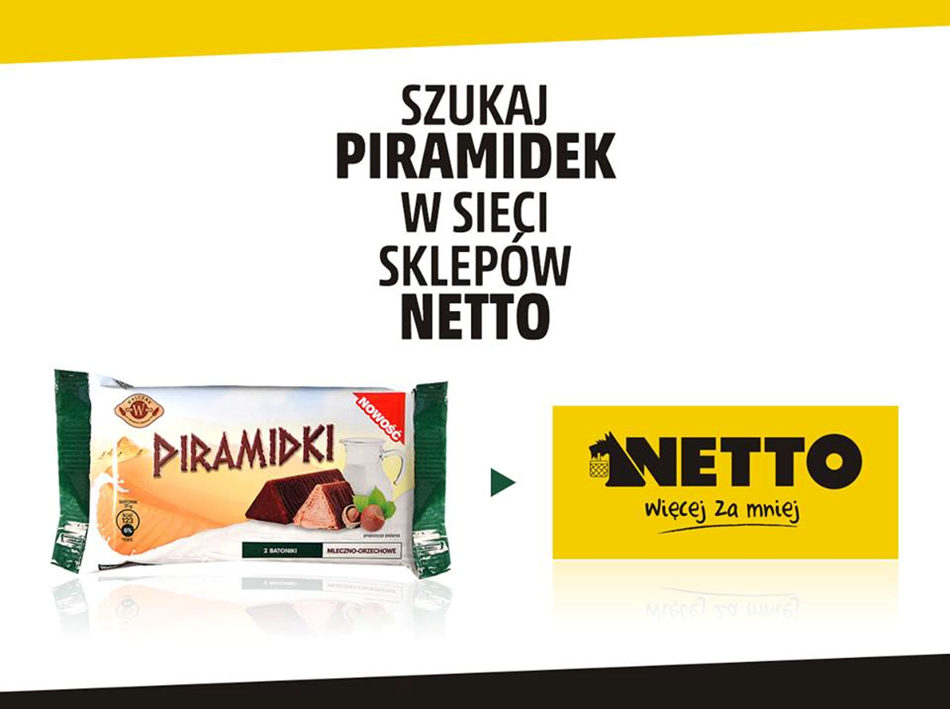 3. PIRAMIDKI PRODUCTION STAGES
Production of "Piramidki" chocolate bar contains a few stages:
The first stage is mixing elements in the mixer in order to to make dough for baking wafers.
Next, finished dough is poured into the wafer machine where "triangular tubes" are baked.
Upon baking, "triangular tubes" are vertically inserted into specially prepared tins and placed in the filling machine.
There, "triangular tubes" are filled with milk-nut mass which was made in the ball mill.
Next, wafers filled with mass go on a line to the coating machine, where they are coated with milk or white icing.
Icing, which is stored in the coating machine, is melted and mixed in the mixer.
At the subsequent production state, filled and coated wafers go on a line to the cooling tunnel from where they go out ready for packing upon a few minutes.
Next, finished "Piramidki" are removed from the line, packed into trays per two items and placed on tins.
Tines with trays are transferred to the packing machine where chocolate bars are packed in foil with graphics on it.
Finished product, packed in foil, is placed inside bulk cardboard boxes of display type (a cardboard box with a graphics to be placed on a shop shelf) most often ca. 20 items per box.
Displays are packed, depending on the order, directly onto a pallet or into additional bulk cardboard boxes.
4. GENERAL DESCRIPTION OF MACHINES INCLUDED IN PRODUCTION LINE:
A. Dough mixer:
Company: KOCUŁA
Type: MT 100
Production year.: 2013
1 Technical specifications
1.1 Purpose
A turbine mixer is intended for preparation of liquid component – e.g. dough for baking wafers, sauces, etc. – with any recipe, applied in foods industry. A turbine mixing system allows for exact and fast break-up and mixing of ingredients.
1.2 Device assemblies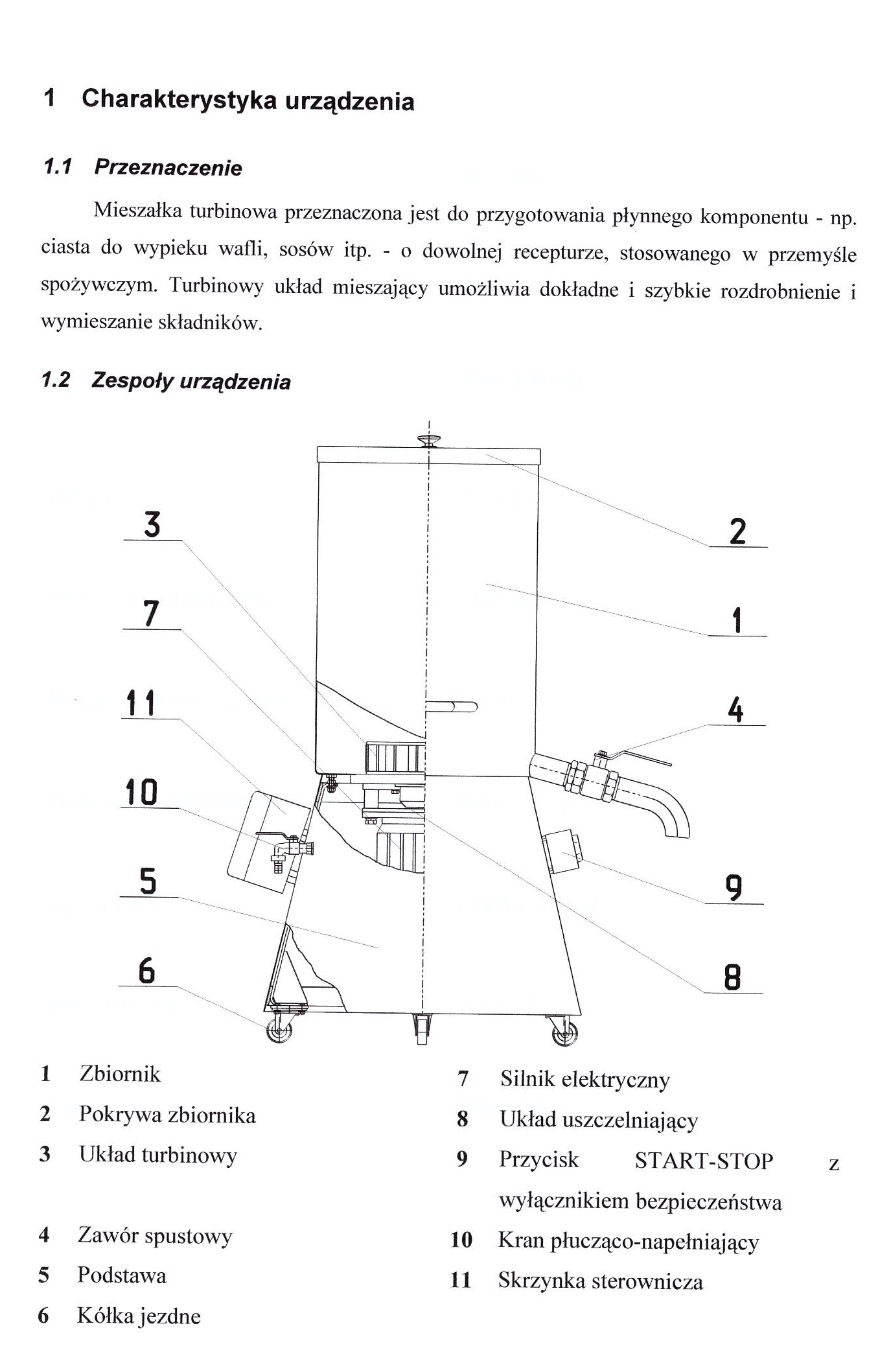 1 Tank
2 Tank lid
3 Turbine system
4 Drain valve
5 Base
6 Road wheels
7 Motor
8 Sealing system
9 START-STOP button with safety switch
10 Rinsing-filling tap
11 Control box

1.3 Dane techniczne
Type: MT-100
Heigh: 1240 mm
Diameter: 0440/0660
Weight: 70 kg
Tank volume: 100 dm3
Maximum working volume: 60 dm3
Turbine rotational speed: 940 obr/min
Motor type: DMA2-112M6
Motor power: 2,2 kW
Supply voltage: 230/400 V
B. Machine for solving, mixing and storing icing
Company: ENIGMA
Type: AGNES - MIESZALNIK DO CZEKOLADY
Production year: 2012
Mixer with an electric temperature control, pump and mixer arm. It is used for melting, mixing and storing icing, chocolate, cream, etc.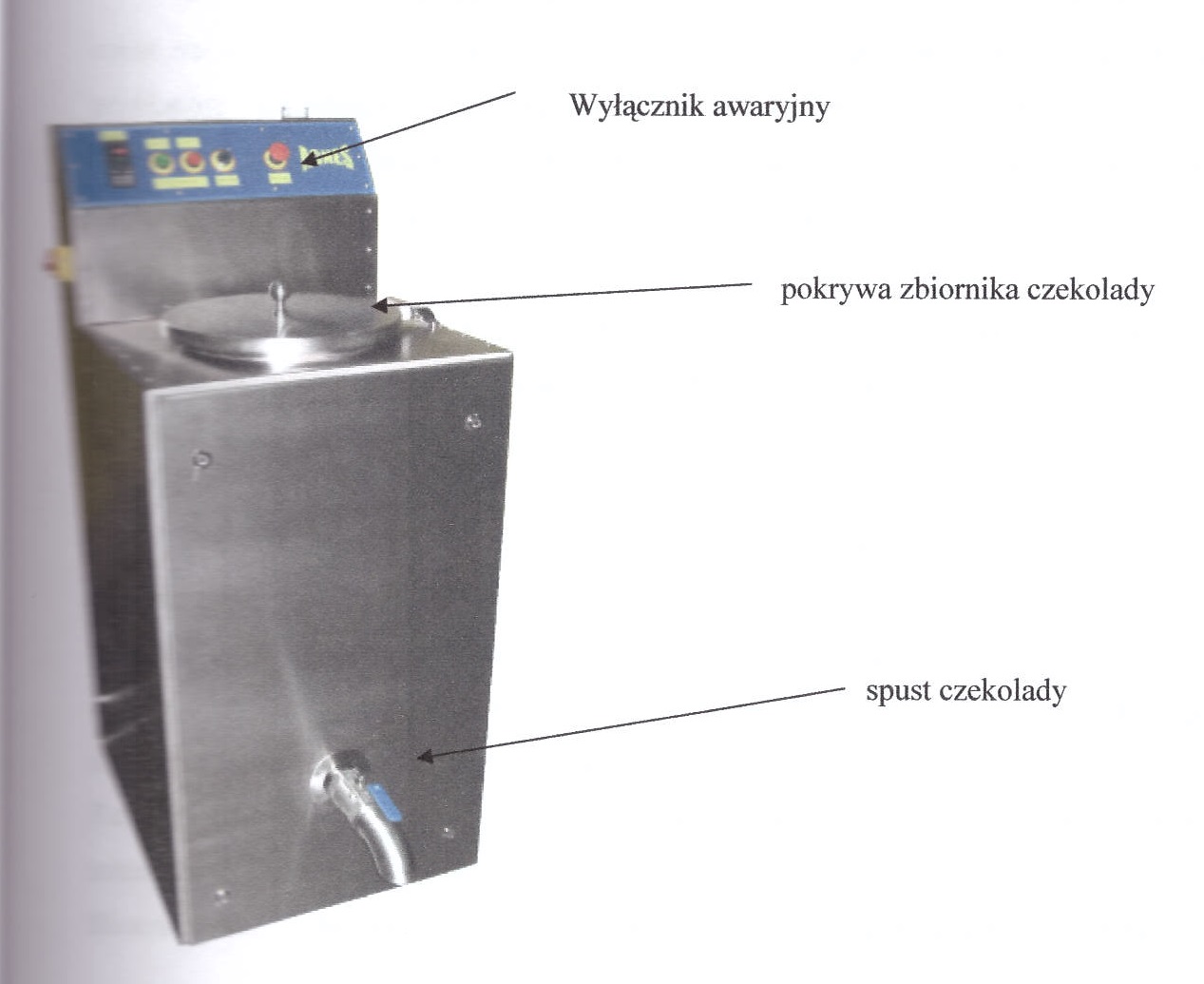 C. Machine for production of triangular wafers
Company: KOCUŁA
Type: WR 140
Production year: 2013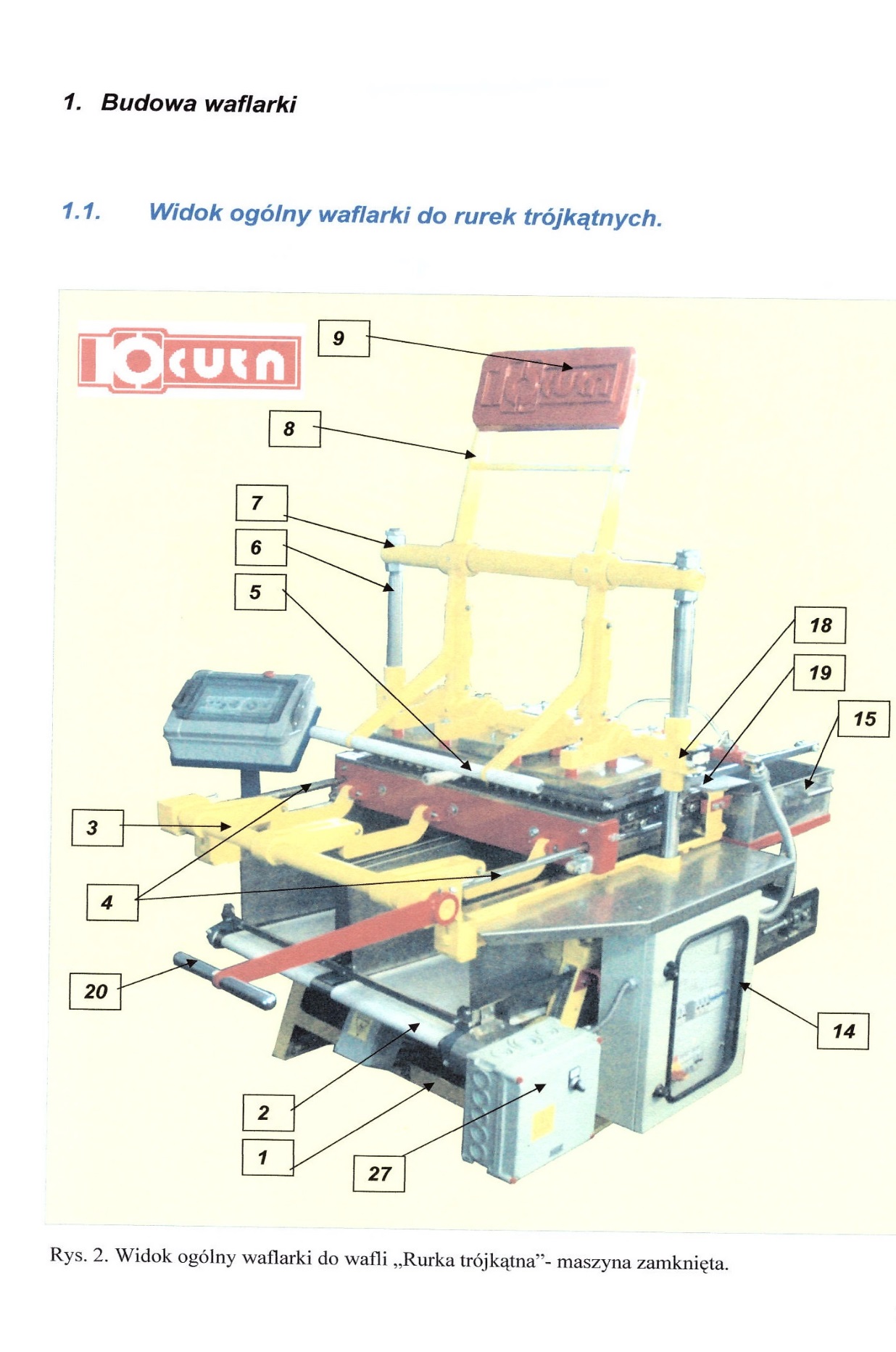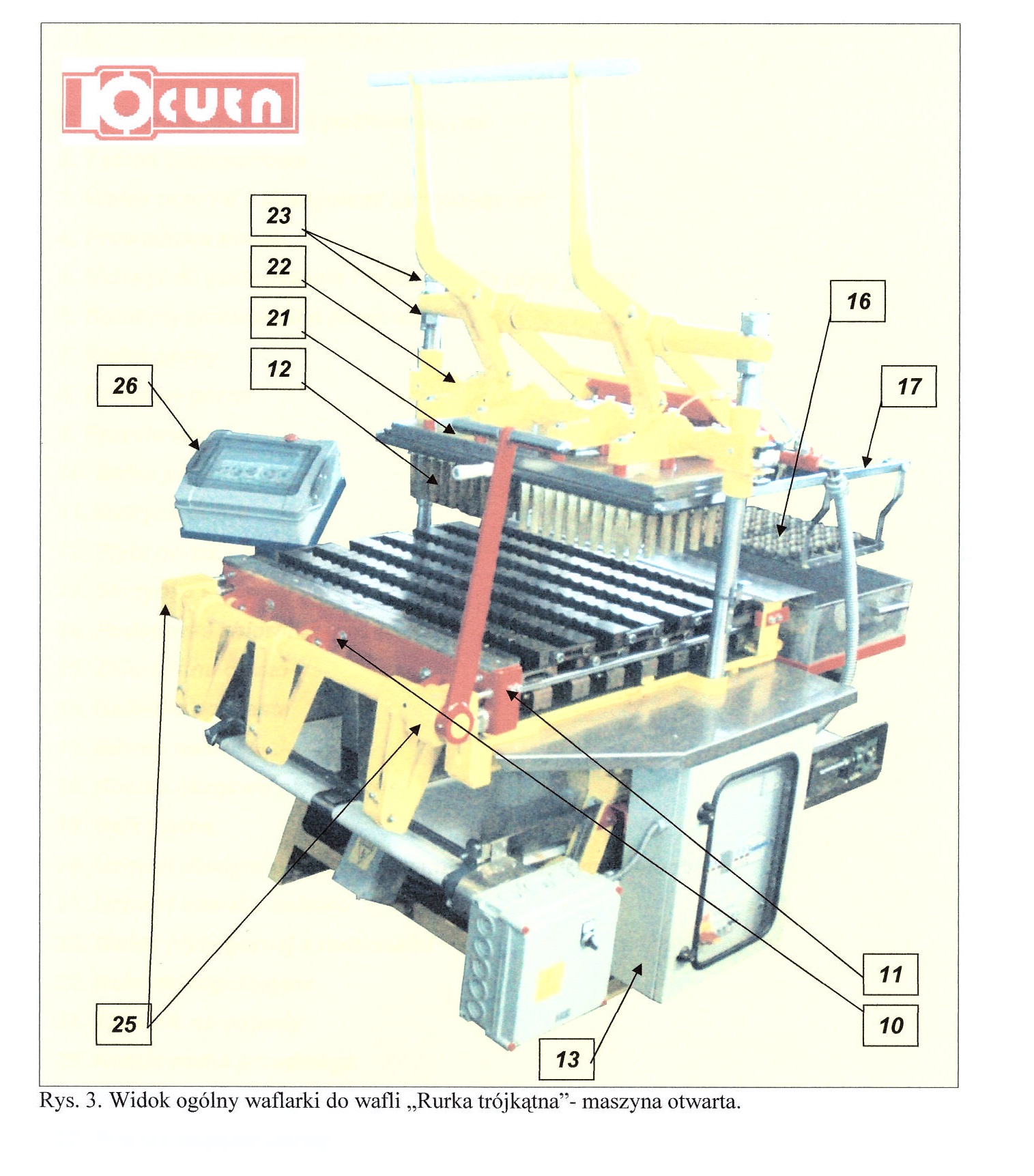 1.4. General description.
A wafer machine has a metal structure. It is made from angle, round steel, cast iron and acid-resistant metal plate. On the base (1) made of angle profiles there are two bottom guides (4) mounted on which there are two bottom matrices (11). From the front side of guides, in blocks (25) there is a front shaft (3) mounted rotationally, connected with the front beam (10) through levers. The level (20) with a handle allowing for opening and closing bottom matrices (11) is attached to the front shaft.
On the side of bottom guides (4) there are screwed two vertical guides along which two slide blocks connected with each other by a shaft with arm (19) move. The upper board with mandrels (12) is screwed to the arms (22) the weight of which is balanced by a counterweight (9). Nuts (23) are used for regulation of position of upper shaft (7) – holding down the upper board (12) on bottom guides (11) during baking.
On the side of the upper board (12) there is a slide (17) lying on slide blocks which has a handle (21) allowing for moving the tank with dough (16) attached to it. On the back of the base (1) there is a washer (14) screwed on which there is a tank for dough (15).
On the right side of the base there is an electric box (13) from which ducts are led to bottom matrices (11) and upper board (12).
The electric equipment ensures conformity with principles of health protection and safety from danger on the condition that is it correctly installed and used in line with its purpose and maintained in the right condition.
Transport line (2) is used for wafer transport upon finished baking.
1.3. Technical-operational data.

1. Overall Dimensions of open machine
Length: 1520 mm
Width: 1220 mm
Height: 1845mm
2. Overall dimensions of closed machine
Length: 1930mm
Width: 1220 mm
Height: 1875 mm
Weight: ~700 kg
Supply: 3 x 230 V+N+PE
External current protection: 40A
Contactor current protection: C 25A, C 32A
Installed power: 30 kW
Average power consumption: ~27 kW/h
Level of machine protection: IP20
Main supply cable: Oflex clasic 100 5x6 mm2
Main supply contact: 63A 3P+N
Tube dimensions: 23,8x22,2x100
Efficiency: ~3360 szt/h
Time of 1 baking cycle (baking+operation): ~2,5 min (2 min + 0,5 min)
Total capacity of bath for dough: ~62l
Dough tank: 140x21
Baking temp.: 190°C
Heating time until baking temp. is reached: ~20 min
D. D. Ball mill set:
I.
Company: ELCAL Biała Rawska
Type: MK-600 Młyn Kulowy
Production year.: 2014
II.
Company: ELCAL Biała Rawska
Type: ZK-600 Zbiornik Konszowania
Production year.: 2014
III.
Company: ELCAL Biała Rawska
Type: ZK-600 Zbiornik Konszowania z Wagą
Production year.: 2014
I. MK-600 Ball mill
2. TECHNICAL SPECIFICATIONS
A confectionary plant must itself make decisions on the quality and taste of its products. Products of type: creams, fillings, icings and confectionary masses must be produced within one's own scope. Our company can with ease challenge the myth about difficult production of the aforementioned products. The ball mill is a device for production of creams, icings, chocolate-like masses, fillings, pastes in the entire flavor range and colour pallet with break-up of 15-20 microns. The mill processes all types of wafer waste, crispy cookies, etc. However, it does not have any impact of the quality of produced confectionary mass. The appropriately selected bottom plug and bottom mass drain allows for washing with water and easy transition of white mass into dark, milk or colourful mass. The device is equipped with a control panel. The entire conging process is actually automatic without human participation. The entire mill is made from high grade of acid-resistant steel.
PRODUCT RANGE which can be produced by the Ball Mill: icings and white, milk, dessert, dark bitter masses, yellow – advocate type mass, nut, wild strawberry, yoghurt masses, chocolate-like mass, etc. Creams and solid, liquid, half-liquid fillings.
2.1. TECHNICAL SPECIFICATIONS
| | | |
| --- | --- | --- |
| Gabaryty | wysokość | - 3200 mm |
| | Szerokość | - 1200 mm |
| | długość | 1 100 mm |
| | Masa | 1500-kg |
| | Moc | - 13.5 kW |
| | Napięcie zasilające | - 3x400 V |
3. STRUCTURE
The ball mill is completely made from high grade, acid-resistant steel, the device is equipped with an industrial computer operated through an operator's touch panel. Basic machine components are: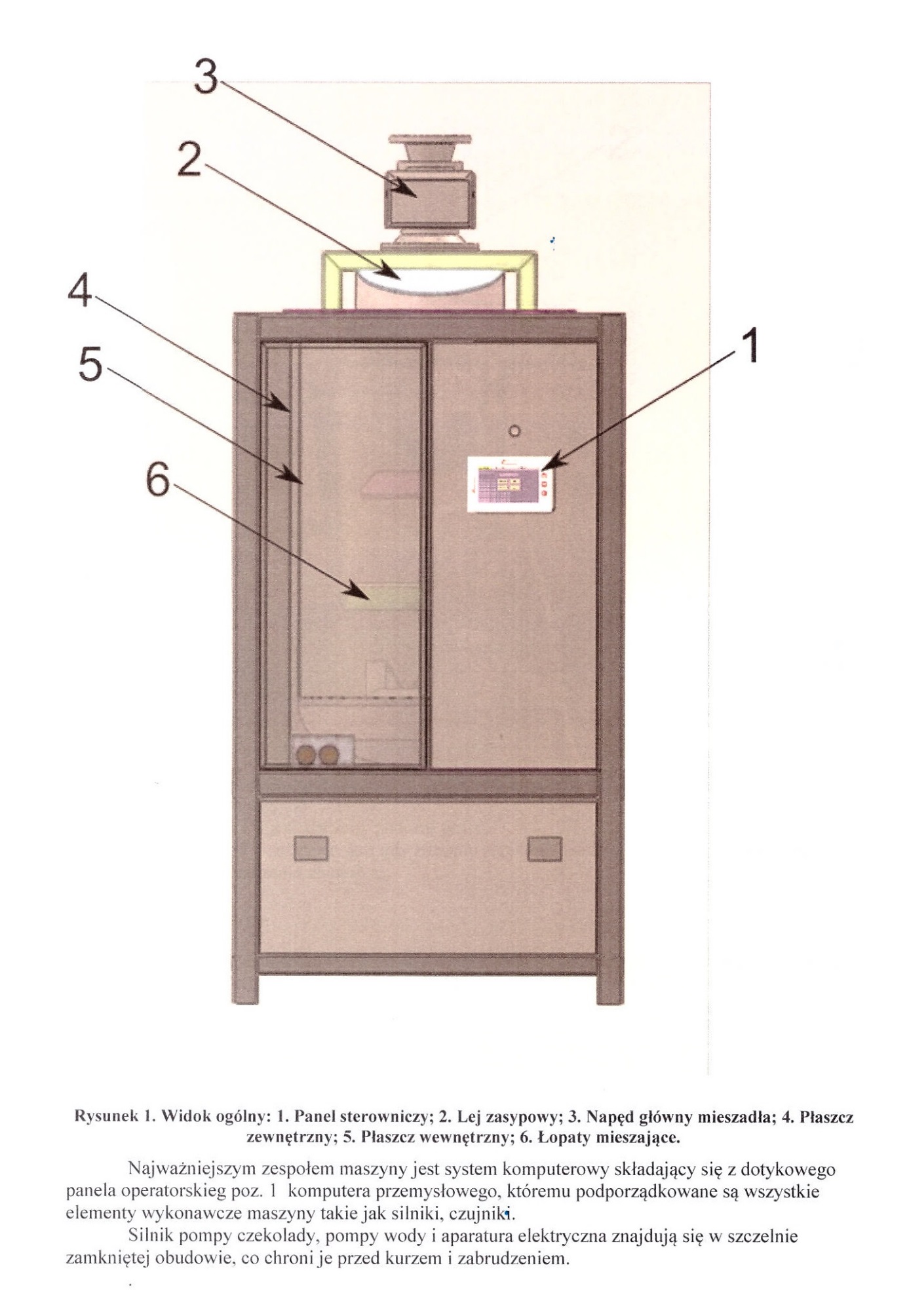 II. ZK-600 conging tank.
The ZK-600 conging tank for melting chocolate or chocolate-like mass.
Structure and technical specifications
The mixer has a shape of a cuboid standing on 4 legs equipped with adjustable feet. Inside it there is a cylindrical tank for chocolate with a tapered bottom with a drain equipped with a ball valve. In order to enhance the even heating, the tank is surrounded with a heating-cooling water jacket. In order to ensure even temperature in the entire volume of heating-cooling jacket, the mixer is additionally equipped with the circulating pump. The water circulation system is located at the back of the mixer. It consists of a short inlet port drawing water at the jacket bottom; filter-desilter; pump and pipe with a jet tip leading water into the jacket. The mixer is connected to the mains with the main switch located on the back side of the control box. Switching on is signaled by highlighting the display of thermoregulatory. The pump always operates when heating is switched on. The mixer is adjusted to operation with the chocolate pump.
TECHNICAL SPECIFICATIONS:
Tank capacity: 600 dm3
Max working temp: 80C
Height: 2550mm
Width: 1180mm
Depth: 1080mm
Installed power: 9,4 kW
Weight: 350kg
Heating: 4 x 1,6 kW through a water jacket
Electric power supply: from mains 3 x 400 V+N+PE
Safety device S303/C25A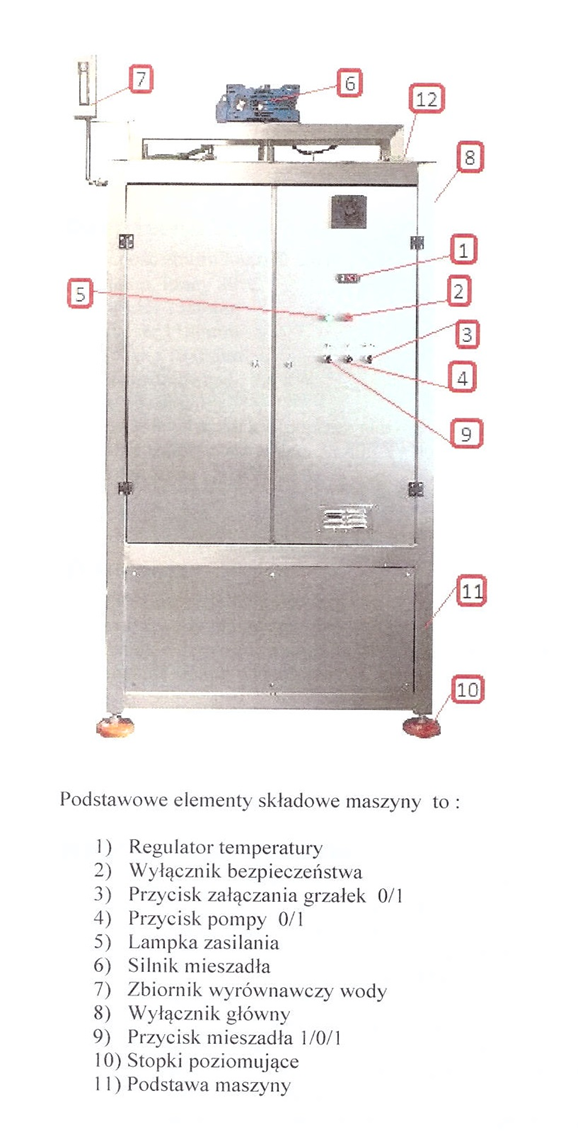 1) Temperature regulator
2) Safety switch
3) Heater power-on button 0/1
4) Pump button 01/
5) Power supply lamp
6) Mixer motor
7) Water equalizing tank
8) Main switch
9) Mixer button 1/0/1
10) Levelling feet
11) Machine base
III. ZK-600 Conging tank with weighing machine
The second conging tank is additionally equipped with an electric weighing machine placed under the tank (picture below). It indicates the weight of mass inside the machine. It is a very useful function, especially when the tank is empties in a few stages.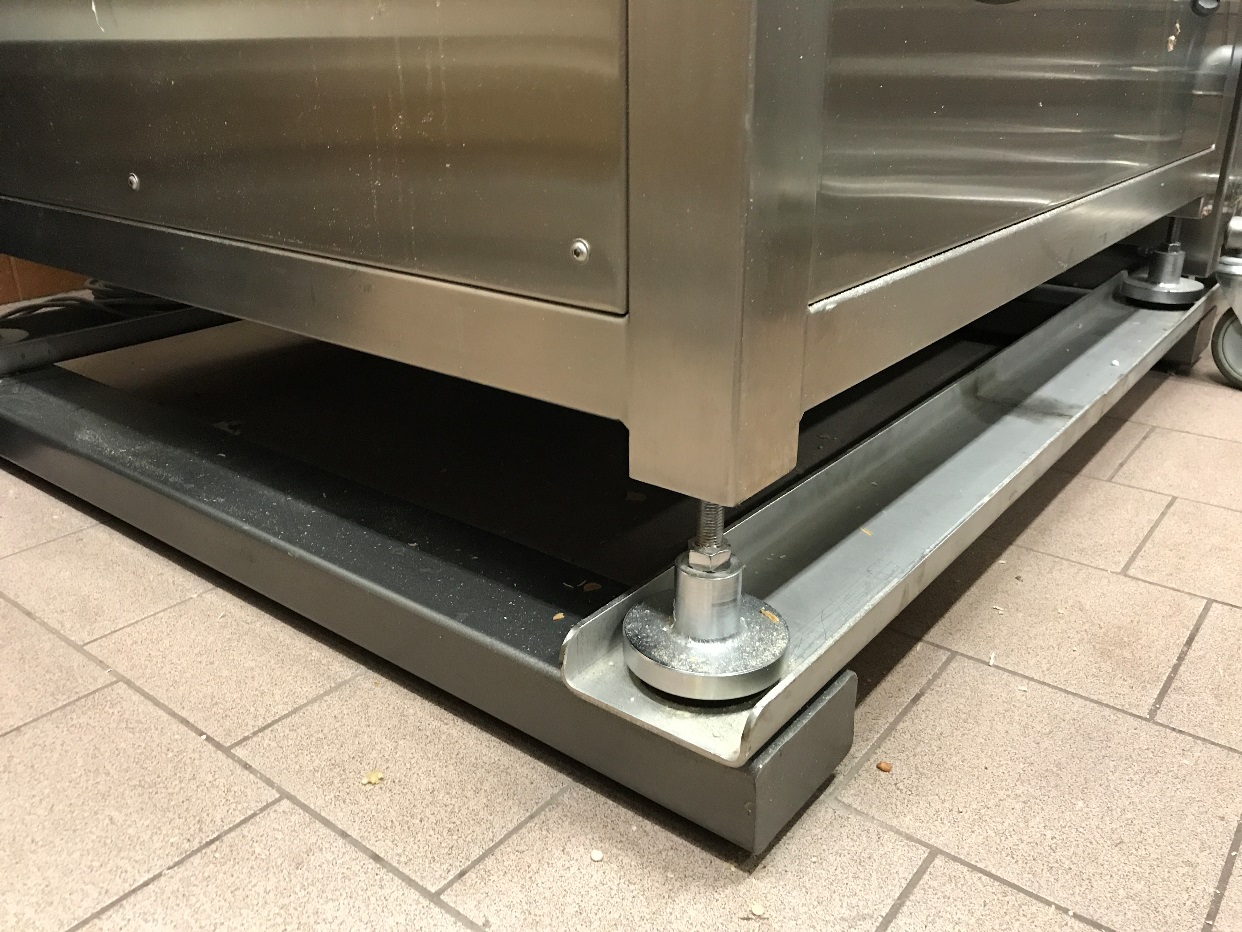 Conging tanks are mainly used for storing mass which is pumped from the ball mill.
The conging tank also plays the function of a melter, e.g. for fat or chocolate
Set Ball mill MK-600, Conging tank ZK-600 and Conging tank ZK-600 with a weighing machine create the entire set. They can operate connected with the plant or operate independently.
E. Filling machine
Company: ENIGMA
Type: MAGIC MB 3S – filling machine / multidrop
Production year.: 2014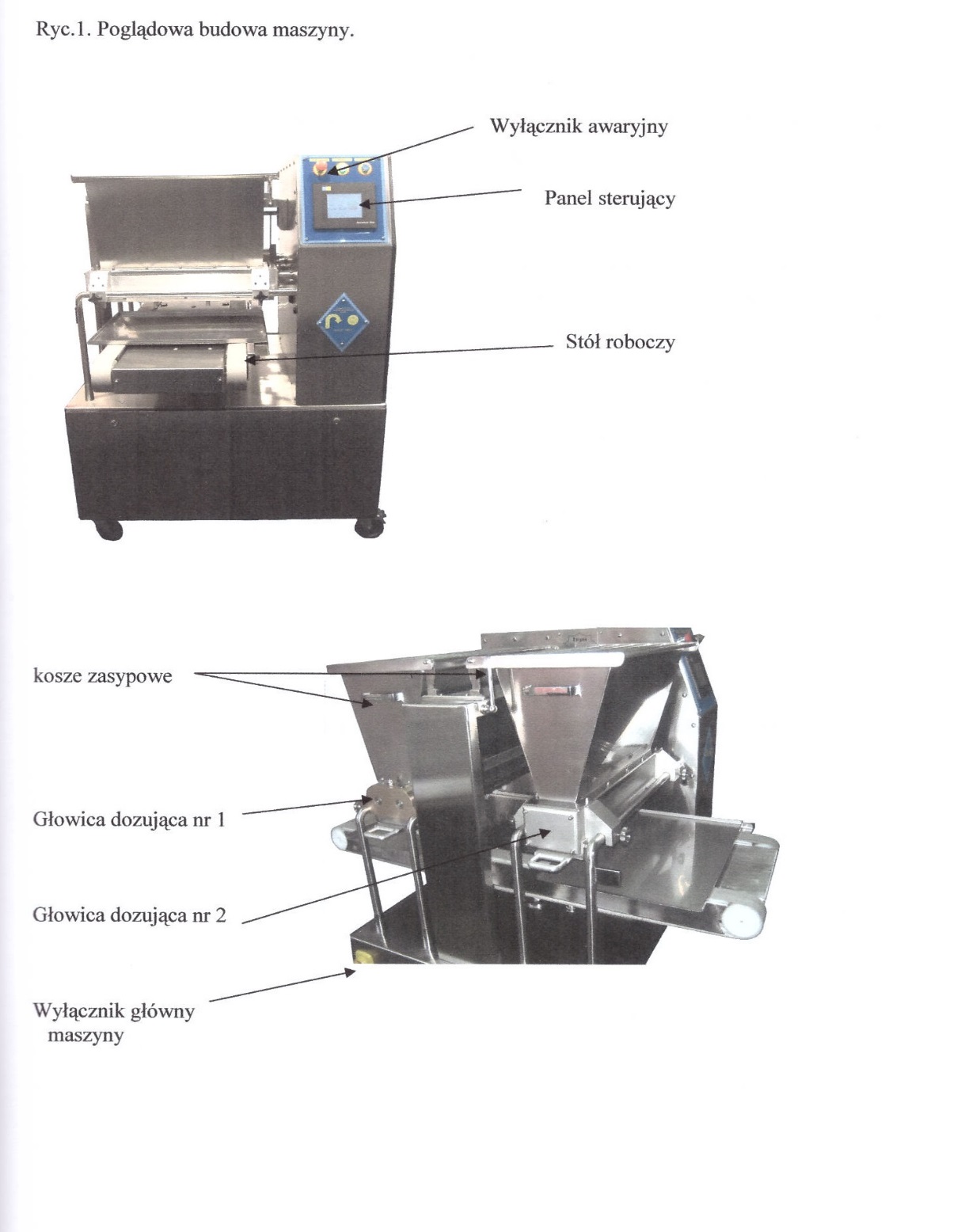 In addition to a function of filling Piramidki with cream, the Magic MB 3S filling machine is a multidrop with a very wide spectre of operation, most of all, in cookies production.
1.1 General machine description
MAGIC MB 2 – S machine for production of cookies, with the applied dosing units with appropriate tips, it is a machine providing high working possibilities with the use of different types of dough (from creamy to thick ones) in production of cookies and confectionary products, allowing for limitless possibilities in terms of product typology and its shape selection.
Structure: The structure made from appropriately processed aluminium with sheathing made from stainless steel, which allows for fast and easy cleaning, stands on four rotational wheels, facilitating movement.
Dosing units: These units are divided into cylindrical units and units with a pump. In these units there are matrices with rotational tips installed and there is a devices for cutting with a string is located at the back. The cylindrical dosing unit performs extrusion, making thick doughs. Grooves cylinders made from stainless steel by springing the dough push it through tips mounted on the matrix, forming various forms with uniform weights and dimensions. The dosing unit with the pump and toothed gears is totally replaceable with the cylindrical unit. The rotation outside the toothed gears results in delicate sucking in dough from the hopper. Next, through tips, dough is shaped without damaging the structure, contributing to its lightness and allowing for maximum growth of products.
Hopper: The hopper made from stainless steel is a part of the head assembly and is used to store dough, it is equipped with a safety grid located on its top; it is possible to install adapters for soft doughs inside it which allows for work with battered doughs or particularly creamy ones with the use of the same dosing unit.
Transporter: The transporter allows for moving tins at the dosing stage. There are two options:
- horizontal (towards and backwards): in order to dose product: the transport is equipped with two straps over the table
- vertical (ascending or descending): in order to detach the product from tips in the dosing stage
F. Coating machine and cooling tunnel.
Coating machine:
Company: ENIGMA
Type: MK 30 model: VENONA
Production year.: 2012
Cooling tunnel:
Company: ENIGMA
Type: MK 30 model: COLOSUS
Production year.: 2012
1.1. General description of Venona coating machine for chocolate and Colosus cooling tunnel
Venona coating machine for chocolate is used to coat products with a half-liquid agent, especially coating cookies with chocolate.
Colosus cooling tunnel is used to cool cookies coated with chocolate. In addition, the cooling tunnel can be used to freeze different foods. Maximum cooling temperature is -5 degrees Celsius.
Colosus tunnel has a container-like structure. The casing consists of: front charging door, back collecting door, electronic control panel with liquid crystal colour touch display and sight glasses. Inside the tunnel there is a multilevel unit of tapes with automatic system of their horizontal or vertical travel and positioning in relation to matching devices, supplying products for cooling and collecting them upon cooling.
The device body casing and other machine elements are made from stainless steel of highest quality. This ensures durability, easy maintenance of cleanliness and aesthetics of device performance.
DIMENSIONS OF THE ENTIRE MAIN LINE WHICH INCLUDES:
1. FILLING MACHINE/MULTIDROP - MAGIC MB 3S
2. COATING MACHINE - VENONA MK 30
3. COOLING TUNNEL - COLOSUS MK 30
LENGTH: 780 cm
WIDTH (in the widest point): 230 cm
HEIGHT (in the narrowest point): 245 cm
LINE IS IN THE
L-LETTER SHAPE
G. Packing machine and dating machine
Company: ILAPAK Company: Markem Imaje
Type: SMART Type: Smart Date X40
Production year.: 2013 Production year.: 2015
The main advantage of Smart packing machine produced by Ilapak is the possibility to fast refitting and change of packing parameters. Exceptionally high efficiency in combination with a Smart Date X40 dating machine, printing the best before date on foil just before packing, gives very good results.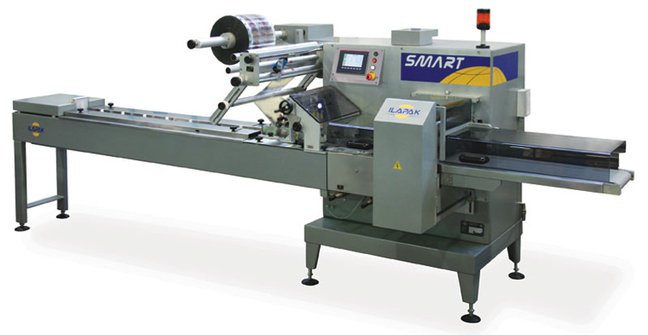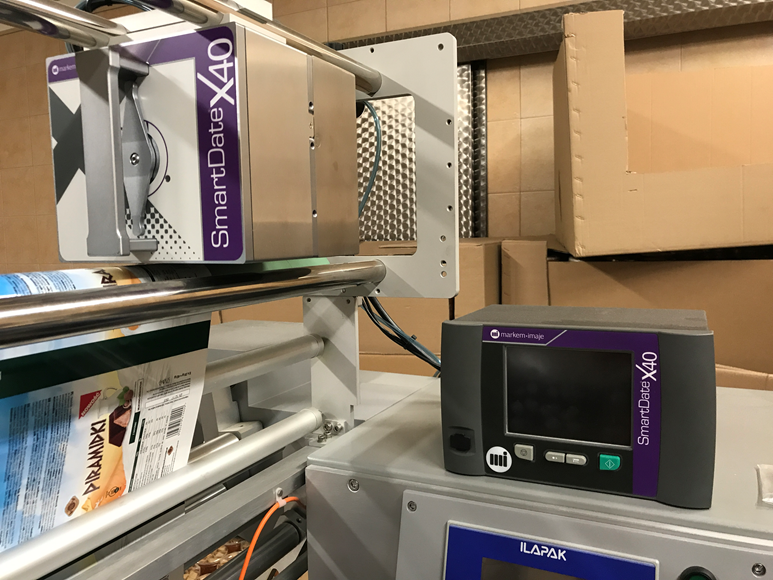 EVALUATION OF PRODUCTION LINE AND PIRAMIDKI BRAND:
SALES INCLUDES:
PRODUCTION LINE CONSISTING OF 11 MACHINES FOR PRODUCTION OF min. PIRAMIDKI CHOCOLATE BAR;
MULTIFUNCTIONAL MACHINES WITH MULTIPLE APPLICATIONS BOTH IN CONFECTIONARY AND FOODS INDUSTRY;
PRODUCTION TECHNOLOGY FOR "PIRAMIDKI" CHOCOLATE BAR;
RECIPES;
PRODUCT WITH RESERVED RIGHTS, PATENTED WITH 8 MONTHS' BEST BEFORE DATE;
FINISHED ARTWORK AND LOGO FOR PRODUCT PIRAMIDKI IN MILK ICING AND WHITE ICING;
ADDITIONALLY, THE PURCHASER RECEIVES:
- CA. 1 500 ITEMS OF CARDBOARD BOXES FOR PALLET TRANSPORTATION;
- CA. 250 000 TRAYS IN WHICH PIRAMIDKI ARE PACKED IN FOIL,
- PALLET OF HIGH QUALITY MILK ICING
- PALLET OF WHITE ICING
- TWO PALLETS OF FOIL FOR PACKING MILK AND WHITE PIRAMIDKI, 450 KG EACH

Efficiency about 800 pieces bars per hour

TOTAL PRICE (NET PRICE) 255 000 EURO


FILMS WITH PRESENTATION OF ALL MACHINES DURING OPERATION ARE AVAILABLE ON CD ENCLOSED WITH THE OFFER
ALL MACHINES ARE EQUIPPED WITH:
- MANUAL IN POLISH
- ELECTRIC DOCUMENTATION
- TECHNICAL-START-UP DOCUMENTATION
- PROOF OF PURCHASE
- WARRANTY BOOK
FILMS:
Firma Kocuła
ul. Wiśniowa 5
Mokronos Dolny
55-080 Kąty Wrocławskie
Poland

tel.: +48 71 363 50 15