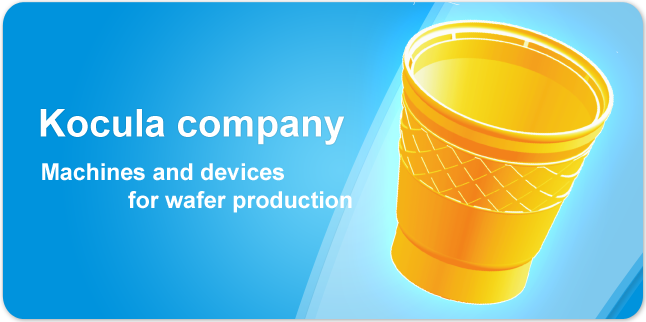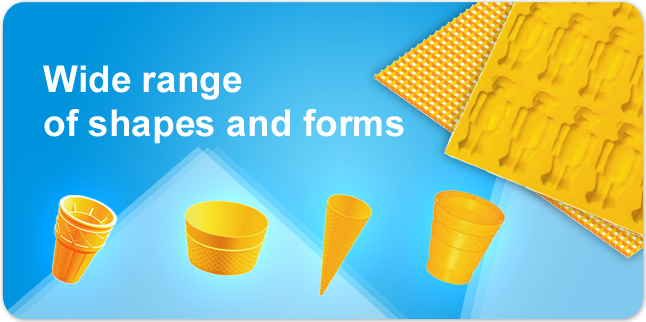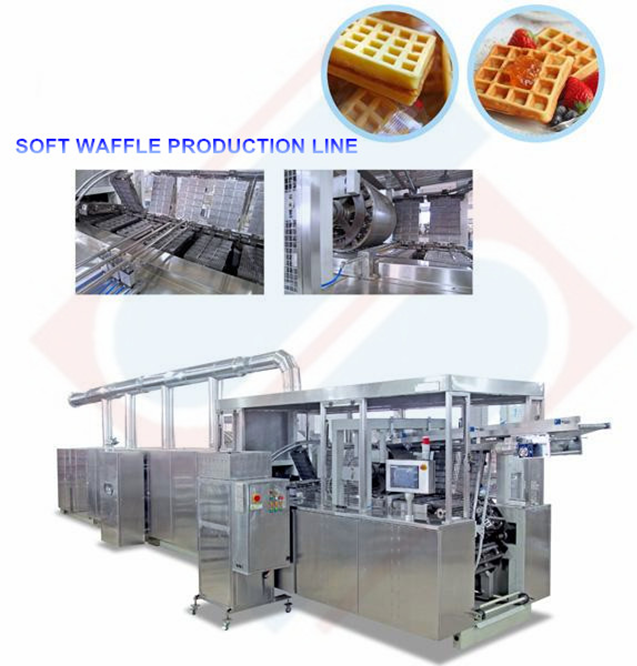 Highly efficient fully automatic line from Coral Company for soft wafer production.
The whole process is fully automatic, starting from batter mixing up to cooling down the final product.

Efficiency
8.0 tons/24 hours.
Electric energy consumption
26.79KW (3~N 380V, 50HZ)
Line's dimensions
21.0m×8.0m×2.5 m
Weight
23 tons
Amount of final product
≥98

%

LPG Consumption
32.0 kg/h
LNG Consumption
44.1 m3/h
Heating plates sizes
470×325 mm
Baking time
180 s
Cooling
30 HP
Coolant
R22
Component parts of the soft wafer baking line:
1. Baking oven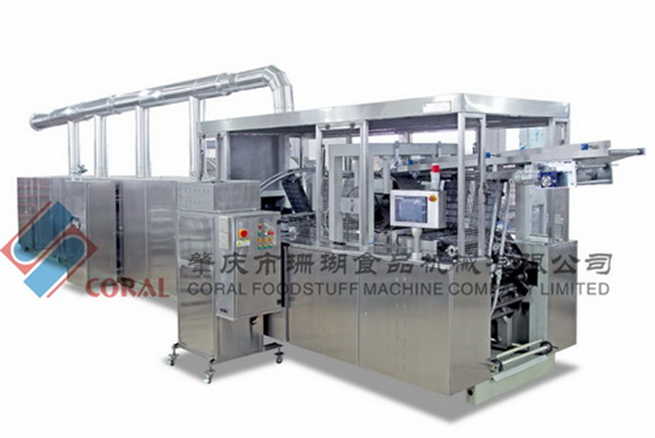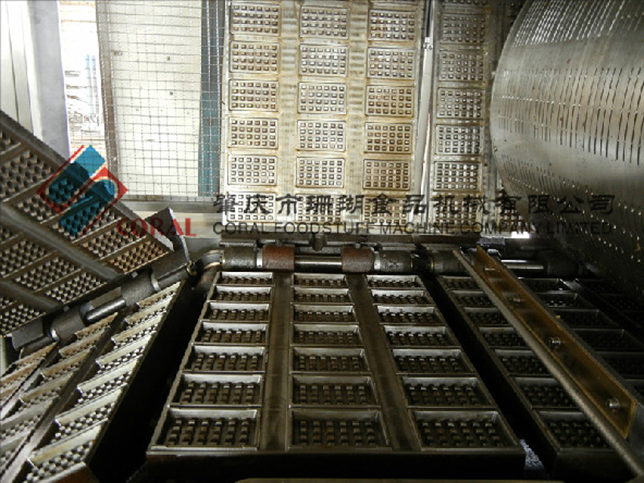 Control panel: touch screen (Mitsubishi, Japan)
Controlling possibility of the programmed - and actual - temperature on the touch screen
Electronic indicator of temperature- and wafer amount produced per minute
Display/control/adjustment of the transportation speed and disposition
Servo mechanisms dispose batter on each baking plate
Oven's baking system:
Upper and lower high voltage burners which ignite itself automatically
Gas pressure's safety-valve, air filters, gas pressure and air switch, manometer and shut-off valve
Fan leading the air into the combustion chamber and into the mixture
Automatic control system with an infrared sensor
Raytex probe measuring temperature on the baking plates
| | |
| --- | --- |
| Device | Line for soft wafers |
| Lenght | 12840 mm |
| Width | 2300 mm |
| High | 2500 mm |
| Weight | 19000 kg |
| LPG's consumption | 32 kg/h |
| Electric energy consumption | 17.93 kW (3~N 380V 50Hz) |
2. Conveyor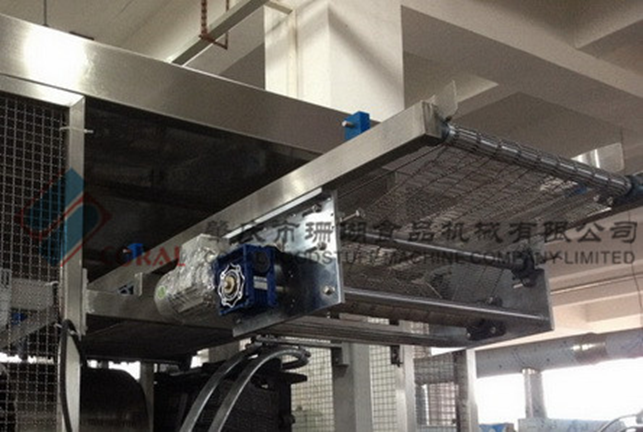 This device transports wafers from oven directly to the cooling station.
| | |
| --- | --- |
| Device | Conveyor SH-SS |
| Material | X5CrNi18-10 |
| Length | 2300 mm |
| Width | 680 mm |
| Hight | 2000 mm |
| Electric energy consumption | 0.18 kW (3~N 380V 50Hz) |
3. Spiral cooling cabinet 100M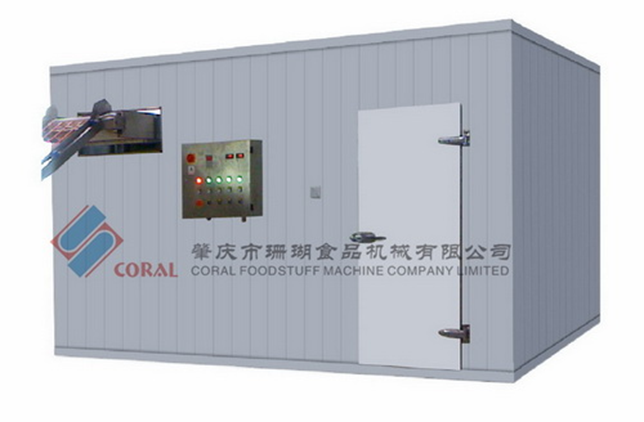 Spiral Cooling Cabinet 100 m is used for quickly and evenly cooling of the soft wafers right after the baking process. The temperature in the cooler is even in each place. This device fulfills high demands of the hygiene and security.
Device
Cooling cabinet 100M SH-LG
Isolation material

polyethylene foam

PE
Compressor
SANYO (Japan)
Valve and filter
ALCO (USA)
Electronics
Schneider (Niemcy)
Coolant
30 HP
Refrigerant
R22
Centrifugal blower

4.0KW 500×550 Pa

13000-18000 m³/h

Adjustable cooling
0~5 °C
Lenght
7245 mm
Width
5500 mm
Height
2400 mm
Power installed
3.18 kW (3~N 380V 50Hz)
4. Turbine mixer for soft wafer batter.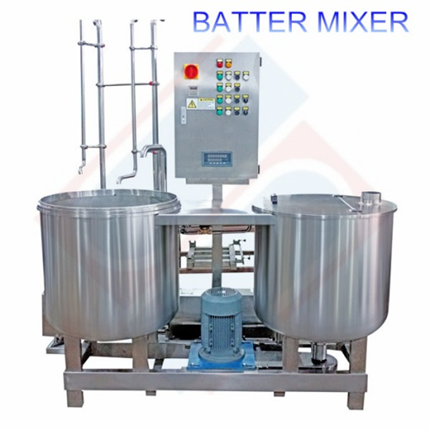 This device consists of two containers made out of stainless steel: one container is used for mixing of the batter's ingredients, second container is used for storage of the batter.

Device is equipped with steering panel with water control possibility, mixing time and batter dosage into the oven for baking of soft wafers.
| | |
| --- | --- |
| Device | Turbine mixer for soft wafer's batter SH-DJ |
| Material | X5CrNi18-10 |
| Electronics | Schneider (Niemcy) |
| Length | 1860 mm |
| Width | 900 mm |
| Height | 1600 mm |
| Power supply | 5.5 kW (3~N 380V 50Hz) |
| Pump | 4 m³/h, 8mH2O |
Firma Kocuła
ul. Wiśniowa 5
Mokronos Dolny
55-080 Kąty Wrocławskie
Poland

tel.: +48 71 363 50 15